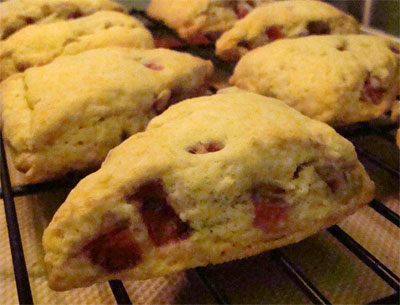 It used to be that the only time we ate scones was at a bakery or coffee shop. It's the perfect choice when you are looking for a pastry not quite as buttery as a croissant, sweeter than a bagel, and something with more crunch than a muffin. The only problem is that it is quite a hit or miss with finding a good scone, and unfortunately more often a "miss".
We were initially inspired a couple years ago when we flipped though and saw a scone recipe in Holiday Baking by Sara Perry. Its "Boxing Day Scones" promised "flakey, tender, buttery buttermilk scones. Of course that cookbook had to come home with us!
Let me tell you that first off, we do not yet own a food processor and I do not enjoy cutting butter into flour; an exercise that is required of making almost any lovely buttery pastries. I often feel like I get more flour on myself and butter smeared on my fingers than should be "accidentally" omitted from the recipe. You can imagine my glee when Ryan offered to do the cutting for me (by hand with knives)! Then lucky for us, I just discovered that we could easily take care of this with the chopper attachment for our immersion blender. Hooray!