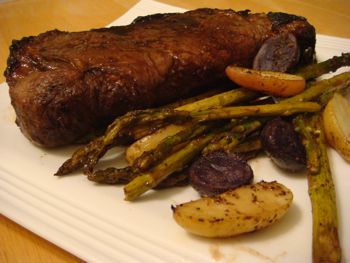 We had an unexpected Sunday dinner date opportunity, and it was a debate whether we would stay in, or go out to a restaurant. We were leaning towards staying in to catch up on videos/tv, and the thought of steak and roasted vegetables sealed the deal!
We have been steaming our asparagus, but after our success with the Romanesco cauliflower, I am on a roasted vegetable kick! I never realized what a difference roasting makes in vegetables. They are tender inside but still firm on the outside. There's a nice toasty flavor mixed with whatever spices are used.
Tonight we were free-wheelin' and recipe-free. We were doing our own version of 30-minute meals. Ok, it took more like 45 minutes including defrosting the steaks, but still, it was a quick, no fuss meal.