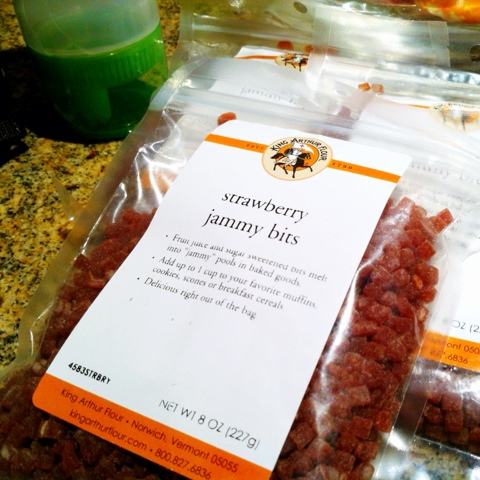 I love gifts that give back! My family surprised me with a birthday gift, not on my birthday. It was a huge supply of strawberry jammy bits from King Arthur Flour … and a pancake pen!

So of course we made strawberry pancakes! They were scrumptious! The munchkin managed to turn breakfast into a treasure hunt for strawberry bits… What did I expect?
Let's do a serious product review though.
With lives as busy as ours, we often have breakfast on-the-go. These jammy bits will enable me to make breakfast treats that don't require spreads or dips or syrups. The jammy bits really taste delicious, however, they really are jelly bits rather than jammy because there is no detectable fruit pulp in the bits. Out of the bag they are almost like gummy candy. The website says there are no preservatives or high fructose corn syrup, which is a huge plus in my book! I will post the ingredient list soon. They are a bit pricey but a half cup was plenty for our batch of pancakes so I think an 8oz bag will last a few batches. Now, if only they made maple jammy bits!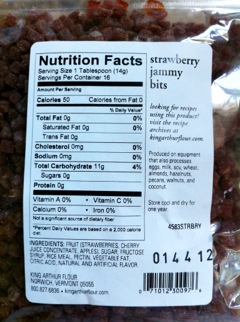 As for the pancake pen, I for one could not justify the purchase, but as a gift, it is awesome! Out of the packaging, it is very easy to use. I mixed the dry and wet ingredients separately poured them into the bottle (pen) using a canning funnel. Shook up the batter to mix and added a bit of milk to improve the batter flow. The unfortunate surprise was when we bumped the tip causing it to fall to the bottom of the batter inside the pen. Without the tip, the pen is still usable, but the hole is bigger, and harder to draw details with. Since the tip was still in the bottle, it created a troublesome plug when we tipped it to dispense. It wasn't hard to fish it out and replace, but it would be nice if there was a locking groove that prevents this. The pleasant surprise is that the tip is silicone, so no worries if you accidentally bump it to a hot surface. I saved a bit of batter in it to test how well pancake batter keeps in it overnight.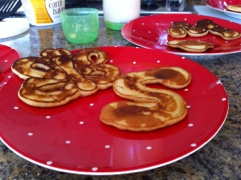 TweakedPalate Rating: 9.3 spatulas

Taste: 9 spatulas
Presentation: 9 spatulas
Simplicity: 10 spatulas