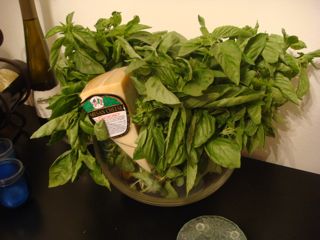 It's time for another eChallenge! Thanks to everyone who participated in June's Salmon Cakes eChallenge. We had some beautiful dishes and lots of great tips and ideas. From the ideas that came out last month, July's eChallenge will be PESTO!
Pesto is essentially made from a mix of basil, garlic, oil, parmesean, and salt and pepper. I find it to be one of the most versatilethings to have on hand for a quick meal. Before summer ends and fresh basil becomes more difficult to come by, I always make up a big batch of pesto to stock my freezer with. To make pesto to freeze, I omit the parmesean cheese from the recipe and freeze the mixture in ice cube trays and transfer the frozen cubes to freezer bags. These are a few of the things I use my pesto for. What do you use yours for?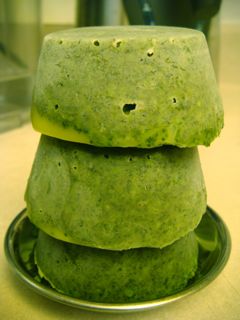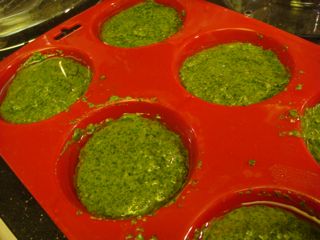 add parmesean and cream – toss with cooked linguini and mushrooms
whip with cream cheese and sprinkle sliced almonds on top – great spread for parties
add a cube to spaghetti or lasagna sauce for that fresh herb taste
add balsamic vinegar, olive oil and toss with fresh mozzarella and halved cherry tomatoes for a quick bruchetta
stir into mayo for a nice sandwich spread
Reminder: How to participate in the Chefs eChallenge

Make the chosen recipe of the month.
The recipe is a guideline and Tweaking is encouraged!
Photograph your resulting dish any way you like (on the stove, perfectly plated, using your cell phone or fancy SLR)
Email me (elemenseeATgmailDOTcom) a picture (.jpg format) and a short paragraph about your thoughts and results for the recipe before midnight PST on the last day of the month. Please also include any suggestions and recipes for the next month's challenge.
All entries will be posted on the blog for everyone to see and chat about!
Use this pesto recipe as a rough guide. I'm a fan of using lemon basil if I can find it or putting a little squeeze of lemon juice and zest into the mix. I omit the pine nuts for allergy reasons. Also, the pizza recipe below is just one idea on what to do with your pesto, but please show your own flair and what you would do with pesto! We will be making our pizza with Trader Joe's pizza dough.

Basic Pesto

1/2 cup fresh basil leaves
1 teaspoon minced fresh garlic
2 Tablespoons pine nuts
1/3 cup extra virgin olive oil
1/4 cup grated parmesan cheese
salt/pepper to taste

Use a food processor or blender to combine and puree basil, garlic, pine nuts, and olive oil. Fold in parmesan cheese by hand and salt and pepper to taste.
California Pizza Kitchen's Pesto Pizza

Pizza Dough (for a 18″ pizza or two 9″ pizzas)
Cornmeal, semolina, or flour for handling
2 Tablespoons pesto
2 cups shredded mozzarella cheese
1-2 roma tomatoes thinly sliced
6 kalamata olives pitted and sliced
6 oil-packed sun-dried tomatoes, drained and cut into strips
12 medium shrimp, peeled, deveined and cut in half lengthwise or 2 chicken breasts cooked and sliced (optional)

Preheat oven to 500 degrees F. If using a pizza stone place the stone into oven to preheat. Spread pesto evenly over the surface of the prepared pizza dough. Cover pesto with 1 1/2 cup mozzarella. Place tomato slices over the cheese. Evenly distribute sun dried tomato and kalamata olive slices. Sprinkle additional 1/2 cup mozzarella over top. Evenly distribute shrimp or chicken slices if desired. Transfer pizza to the oven and back until the crust is crisp and golden and the cheese is bubbly at the center (8-10 minutes).
The challenge is on! I can't wait to see what you all come up with!
---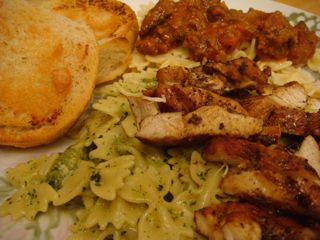 Whew! It's been a busy month, and I hope everyone's making good use of your basil plants! This is what I have come up with as a standard pesto pasta: Vinegar Glazed Chicken.I split 2 chicken breasts (rather than pounding them into thin tenders) so as to maximize the glaze on the chicken and also have them cook quicker. They were the pan fried with salt, pepper, garlic paste, and balsamic vinegar until the vinegar reduces to a glaze and the chicken is browned and cooked through. I boiled some farfalle pasta, and while the chicken rested, I stirred a few cubes of defrosted pesto along with a few slices of brie, shredded parmesan, and cream. The creamy pesto coated farfalle was plated with slices of the balsamic vinegar glazed chicken and a couple of garlic bread rounds.
---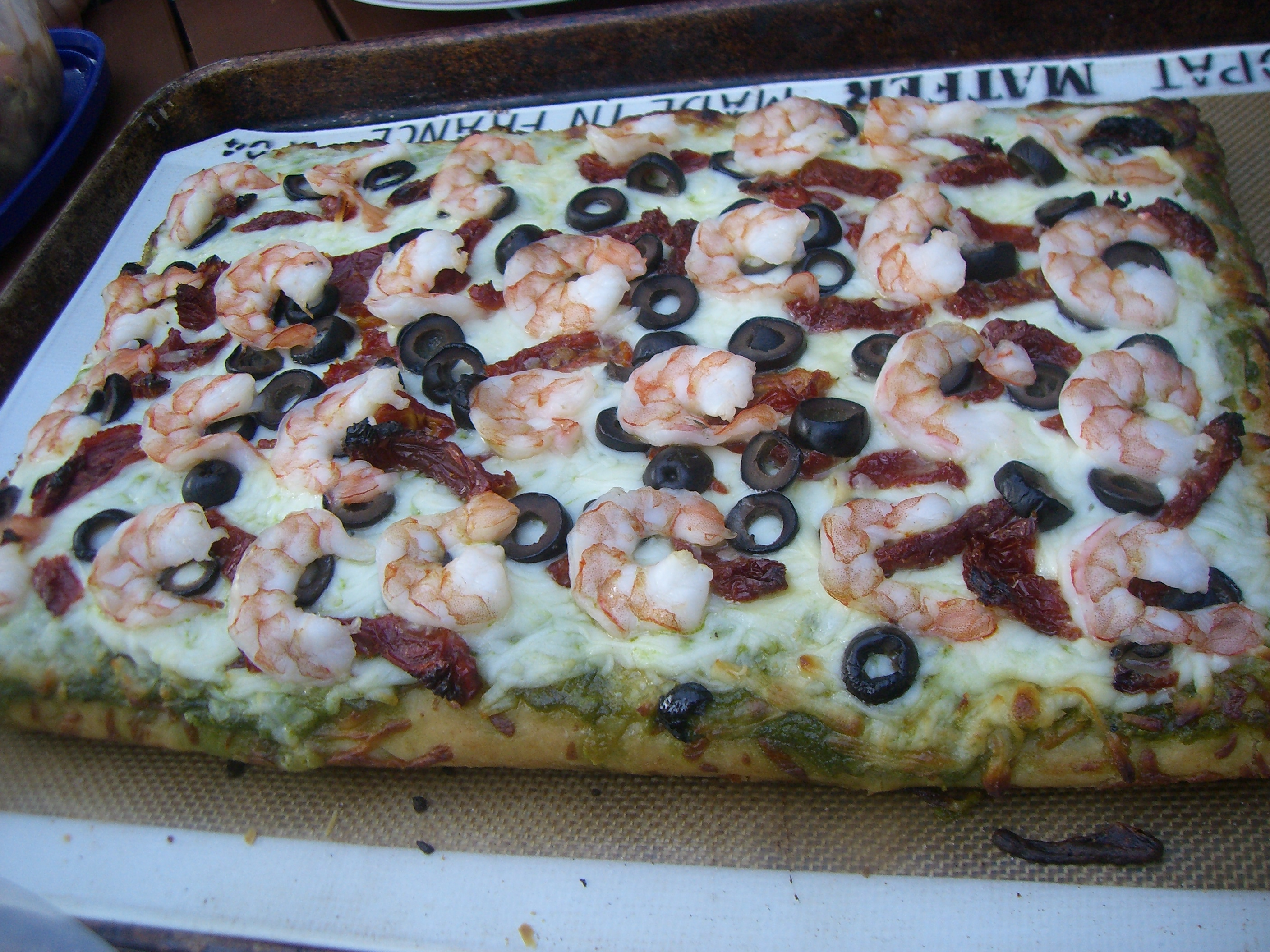 JeAnna's Fresh Pesto Pizza – Perfect, Portable, & Pretty!
The pizza turned out great, a big hit (even w/the kids!). I eliminated the fresh tomatoes so the water wouldn't get onto the pizza. The fresh pesto was made using the basil plant growing in my garden. This was a fun challenge and the fruits of my labor was enjoyed at the free concert in downtown Campbell.
---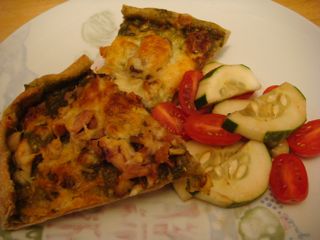 Linh's Pesto Pizza
It was farmer's market day, and I was able to pick up two beautiful bunches of fresh basil (see above).  The basil leaves filled my food processor, and I was able to make a big batch of pesto.  This time I filled a silicone cupcake "tin" reserving enough for the pizza sauce.  I added parmesan to the food processor to finish the sauce.  Note: next time I won't just toss chunks of hard parmesan into the processor.  There was too little pesto and cheese and it took a long time for the processor to puree it.
I used Trader Joe's refrigerated wheat pizza dough and topped it with pesto, shredded rotisserie chicken, mushrooms, sun dried tomatoes and mozzarella.   We served it with a cucumber tomato salad tossed in balsamic vinaigrette (like an Italian sunomono). It was a tasty combination!