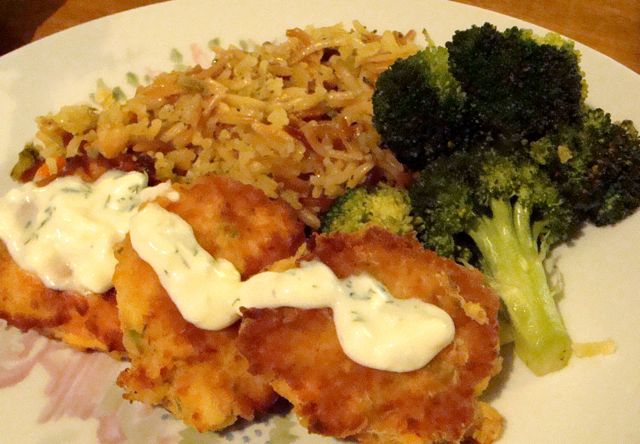 For months now I've been trying to find time to have friends over for an evening of themed cooking, eating, and a little competition, a la Iron Chef. Our friends in Irvine have long been doing such a party they call Iron Chef Irvine and we thought it would be fun to do a similar one in our neck of the woods….it hasn't happened yet. Life seems to be mostly fast lanes these days, so I thought that a Chefs eChallenge would be just the thing to get us all together virtually, especially for all my great chef friends that aren't local to SoCal. What is a Chefs eChallenge you say? Inspired by Canada's Food TV Blog, we will have a recipe challenge once a month that everyone can do at their leisure any time throughout the month. The purpose is to try out new recipes, learn from each others' experiences, and of course have some yummy fun! Here's how it works:
Make the chosen recipe of the month.
The recipe is a guideline and Tweaking is encouraged!
Photography your resulting dish any way you like (on the stove, perfectly plated, using your cell phone or fancy SLR)
Email me (elemenseeATgmailDOTcom) a picture (.jpg format) and a short paragraph about your thoughts and results for the recipe before midnight PST on the last day of the month. Please also include any suggestions and recipes for the next month's challenge.
All entries will be posted on the blog for everyone to see and chat about!
Easy peazy right?! So let's get cookin! Our first eChallenge will be for June 2008 and is inspired by healthy and tasty living. Not to mention I watched Rachel Ray last night and she made her own version of this dish! It must be fate. Let's hear it for Salmon Cakes! Try it out and let me know your thoughts! Remember you have all month until midnight June 30, 2008.
Salmon Cakes

This is a great twist on crab cakes and potato pancakes. Most of these ingredients are ones easy to keep in your pantry for a quick snack or dinner. Ryan and I had these with rice pilaf and steamed brocolli. Tweaking ideas: omit the potato flakes to decrease the carbs; combine butter with the olive oil for added decadence; add some cayenne or chipotle for a kick!

1 (14.75 ounce) can salmon, drained
2 eggs, beaten
1/4 cup garlic and herb seasoned bread crumbs or panko bread crumbs
1/4 cup dry potato flakes
1 small onion, minced
1 clove garlic, minced
1 teaspoon dill weed chopped
6 inch celery stalk finely chopped or celery salt
1 tablespoon fresh lemon juice
1 teaspoon lemon zest (optional)
salt and pepper to taste
2 tablespoons olive oil (more may be needed especially for larger patties)
flour to coat (optional)

In a medium bowl, mix all ingredients except for the olive oil and flour. Form the mixture into 2″ patties 1/2″ thick.

Heat olive oil in a medium skillet over medium heat.

Coat patties with flour prior to cooking for a crispy crust.

In batches, cook patties about 5 minutes on each side, until lightly browned. Transfer cooked patties to a paper towel lined plate.

Serve with lemon wedges or Lemon-Dill Sauce (below).

Yield: 12 appetizer size patties.

Lemon-Dill Sauce

2 tablespoons cream-style horseradish sauce
2 tablespoons mayonnaise
2 tablespoons sour cream
2 tablespoons fresh lemon juice
1 teaspoon dill weed chopped

Mix together and chill until ready to serve.
Happy cooking! I look forward to seeing everyone's entries!
---
It's nice to see that the Salmon Cakes aka Salmon Patties have drummed up some inspiration! Here are the first couple entries. I'm so impressed! Everyone I've spoken to has been a tweaker!
---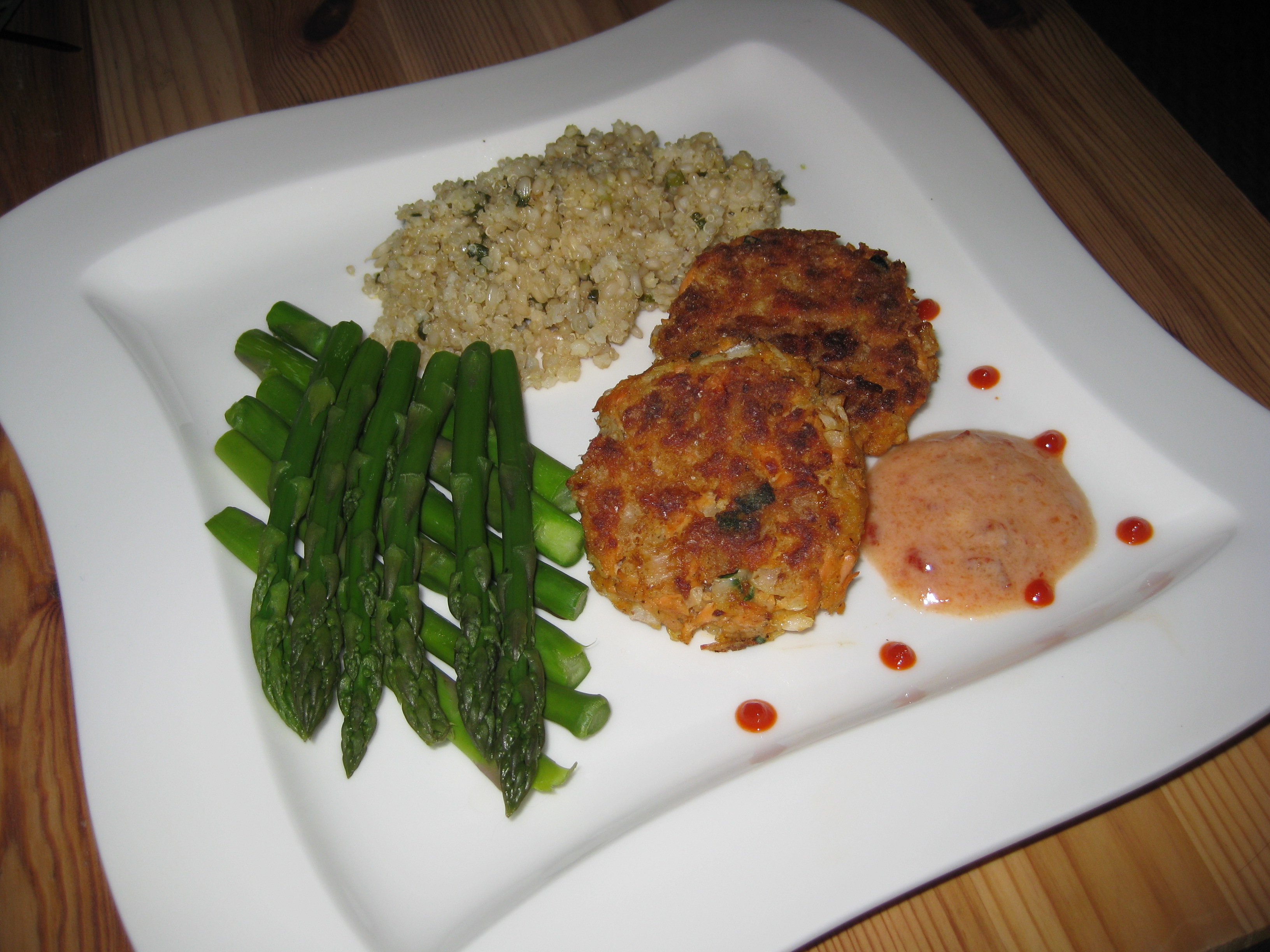 Amy tweaked with great success for a salmon cake meal to please any health buff!
We wanted to make the salmon cakes low-carb and low-fat so we omitted the potato flakes and used a tangy sweet ancho pepper sauce instead of the lemon-dill sauce. We added green onions, paprika, and cayenne pepper, and took out the celery. This was a good way to use leftover salmon which we prepped the day before. Forming the salmon cakes was a little difficult since they fell apart easily, so it helped to really pack the salmon mixture before flouring. We served the salmon cakes with steamed asparagus and mixed grains with green onions. One thing we noticed with our recipe is that the cakes didn't hold together as well as the ones from a restaurant, but they were still super yummy! We also tried the salmon cakes with a pesto mustard sauce that was pretty good.
---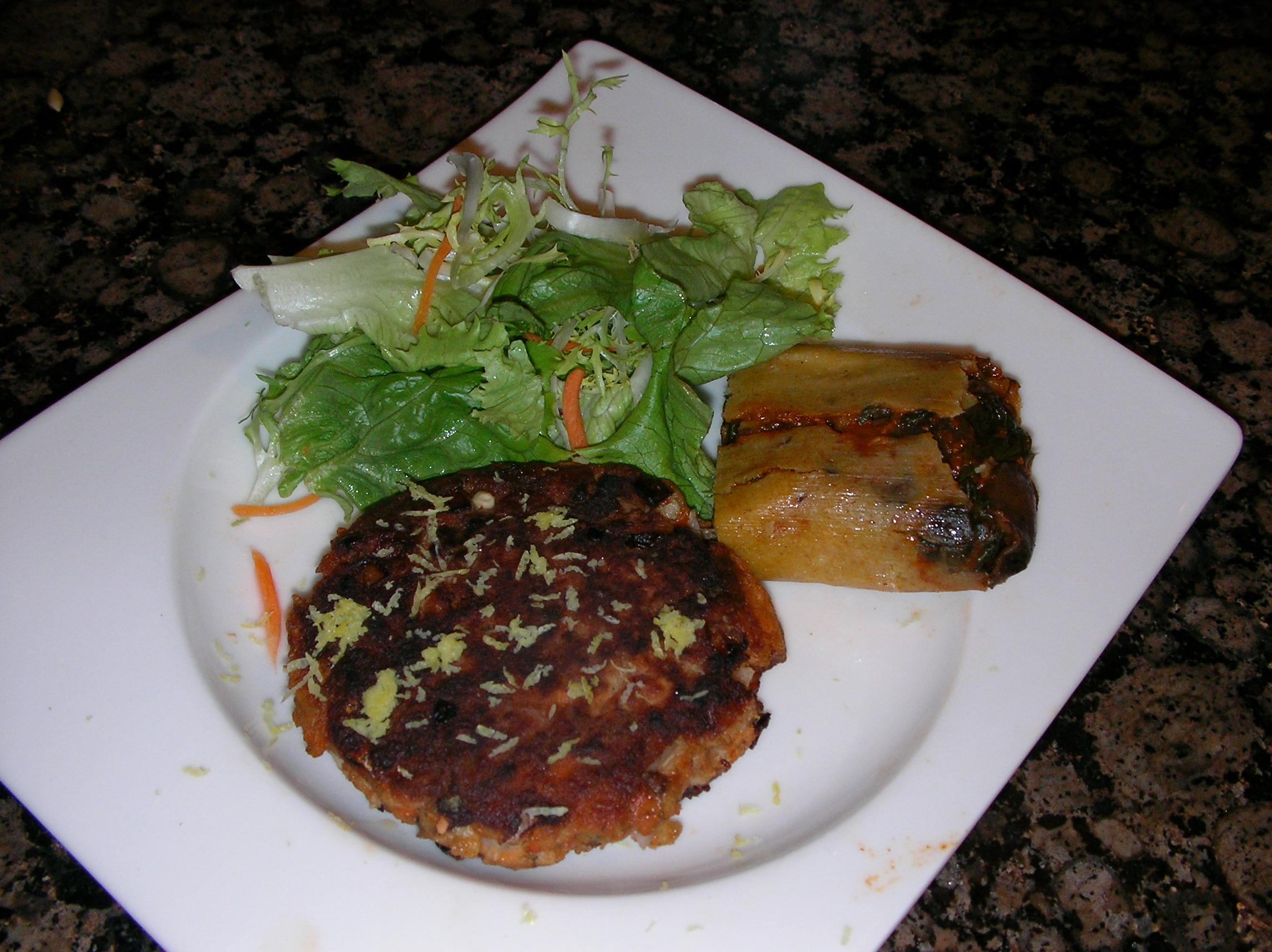 Laura served individual salmon cakes as part of a dual dish with a tangy zest and side salad!
I finally made the dish. It was great, we both really enjoyed it. I topped it with some lemon zest/juice instead of the sauce and paired it with a Mushroom and Spinach
Tamale
and a little green salad I bought at our local health food store.Very positive first chef's challenge. Now what do I do with the box of Potato Flakes in my cupboard? ;)Looking forward to the next one.
---
Eva has a sous chef that is distracting and way cute!
Well, these didn't work out for me (hence no picture) through no fault of their own, it was all my doing. First off, I only get 15 min in the kitchen at a time thanks to my 4 mo. old son Clark, who figures out after 15 min that I'm not in the kitchen fixing him a bottle so thereis really no reason for me not to be playing with him and begins demanding my attention. So I've recently been won over to prep ahead a la Robin Miller style (of Quick Fix Meals on Food Network) and attempted that methodology with the salmon cakes. Unfortunately being in the fridge for 2 days they became really soggy and didn't really stick together. I tried adding more bread crumbs but since I used my own homemade from whole wheat bread it added a "whole wheat" taste. I tried squeezing some liquid out and that seemed to help, but again I think I went wrong by using egg beaters instead of real egg-probably would of held to gether more. Oh and I forgot to dredge it in flour. So, what do you call a tweeker that biffs it? A Biffeeker? A twiffer?
---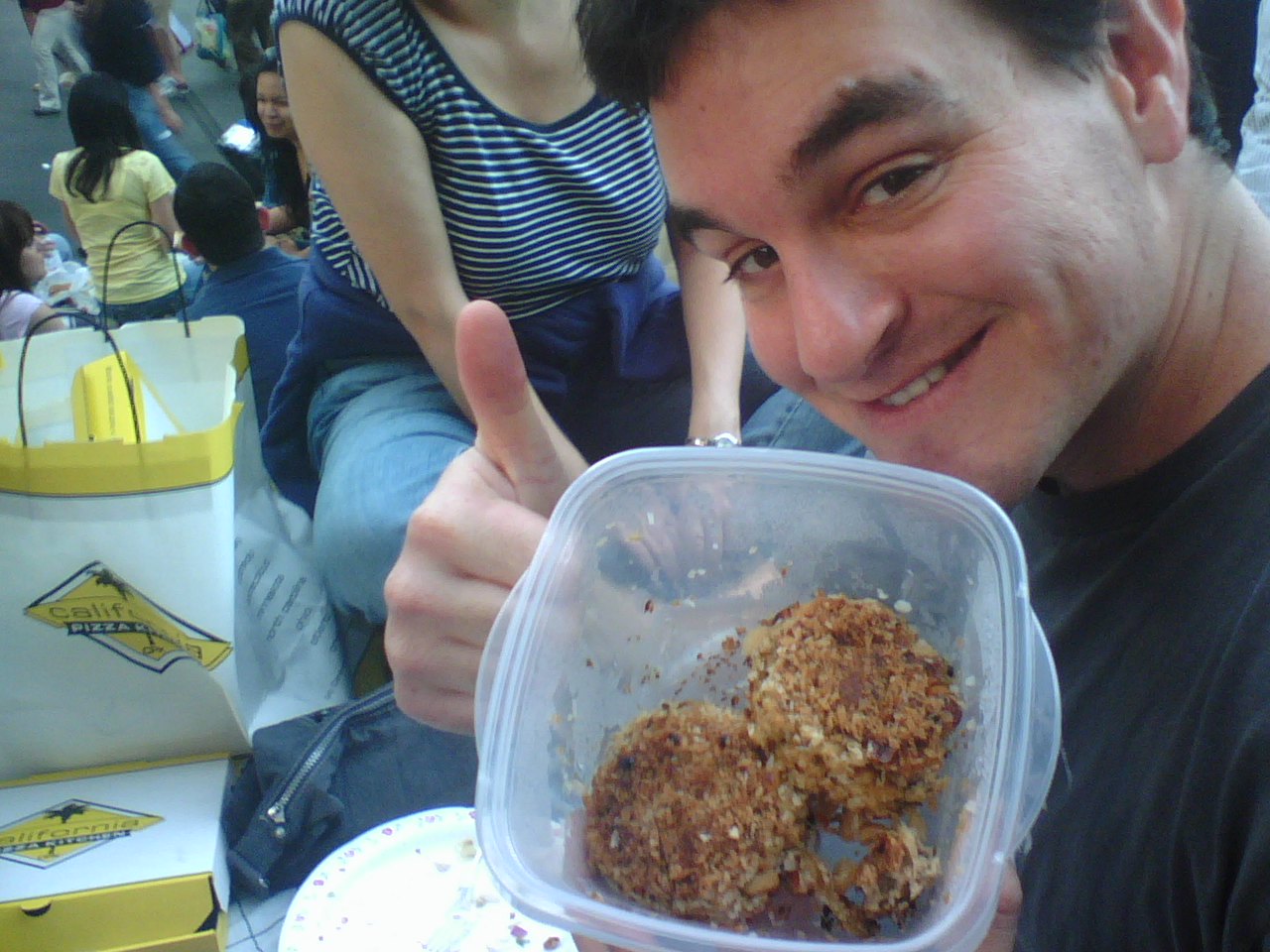 Ben is kickin' it up with his Mediterranean Salmon Cakes!

These are my own recipe, Mediterranean style Salmon cakes. They are essentially a variation on my tuna salad recipe (swap the salmon for tuna, and the eggs for mayonnaise). I really like olives and peanuts, and they make for a good Spanish style combination. Using breadcrumbs _in_ the mix, is a trick my mom uses when making salmon cakes and burgers to hold them together a bit better. The panko on the outside was in place of flour, and was pretty much an improvised replacement for the flour. When lightly pan fried (in olive oil of course), the panko forms a crispy shell on the outside, which gives an interesting texture, and holds the cakes together even better. As you can see from the picture, these were enjoyed by a few additional people when I brought them as my contribution to a pot-luck dinner before going to see Cheap Trick and The Hollywood Bowl Orchestra perform "Sergeant Pepper" at The Hollywood Bowl.
Here's my recipe:
12oz Salmon
2 eggs
~ 1 tsp crushed garlic
~ 1 tsp dill
~ 1 tsp oregano
~ 1 tsp salt
~ 1 tsp fresh pepper
2 tbsp mustard
8 manzanilla olives sliced
handful of spanish peanuts, crushed or halved
1/4 cup panko breadcrumbs
coat cakes in more panko, and then pan fry for 5-10 min per side (until brown and crispy)