Another beautiful cauliflower caught my eye at the Culver City Farmers Market. Orange Cauliflower! The grower said that this variety was a bit sweeter in flavor than it's white cousin. So bright and cheerful, I had to bring her home :). Upon further investigation, I found that it was not only beautiful and tasty, it was a new variety developed at Cornell that has more vitamins as well.
The florets of the new cauliflower look like those of its white cousin, but are orange. More importantly, the vitamin content of orange cauliflower is higher because it contains 320 micrograms of beta-carotene per 100 grams, or approximately 25 times more vitamin A than white cauliflower. – John Zakour and Linda McCandless, Cornell University

So what to do with this flower after I've already tried gratin and roasting? Mashed Fauxtatoes?! Have you ever heard of such a thing? Mashed cauliflower in place of mashed potatoes. This dish has gained popularity from the promotion of high protein and low carb diets. I must say I was initially disturbed by the idea, being such a potato fan myself. In my mind there was no way to replace potatoes with cauliflower. As disturbing as the claim may be, I like cauliflower and decided it was worth a try.
Cheesy Garlic Mashed Cauliflower

1 head of cauliflower roughly cut into florets
1/2 C. whole milk
2 oz. laughing cow swiss cheese
2 oz. light feta cheese
2 oz. parmesean cheese
1 head roasted garlic
1 Tbsp butter
salt/pepper

Boil florets in water until tender. Drain well. Return cauliflower to pot over low heat and add milk, cheese, garlic, and butter. Blend to desired consistency with an immersion blender. A food processor or hand potato masher may work well also. If the mixture is too dry add a little more milk. Season with salt and pepper. Serve warm.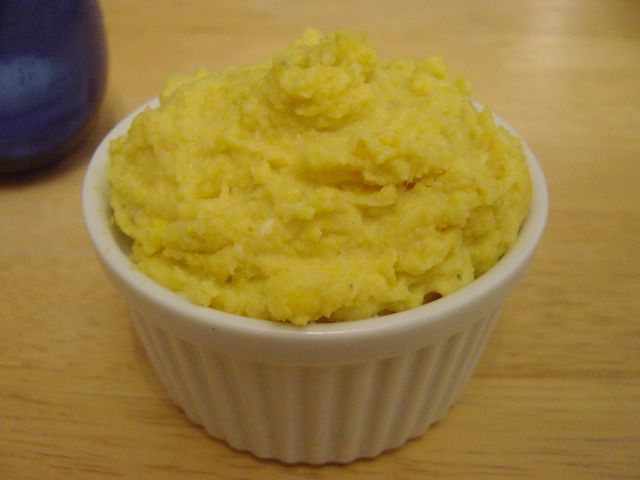 I decided to use what I had on hand for this experiment. The recipe here is a loose one. It can be easily paired with more/less garlic and whatever cheeses you prefer. The amount of milk/cream depends on how thick you want your mash and I'm certain that sour cream would be a good addition or substitution. Rachel Ray has a recipe that suggests boiling the cauliflower in chicken broth, but I decided against that because I usually don't make mashed potatoes with chicken broth and I wanted to make a vegetarian mash.
This was so simple and quick to make and it's delicious! I recommend that you try it. The consistency is the same as fresh mashed potatoes, but the flavor is defintely different. This mashed cauliflower doesn't have to be a replacement for anything. It could very well stand on it's own as a culinary treat. I like this better than a gratin. Though it is creamy and rich, it still feels much lighter than a heavy gratin dish.
TweakedPalate Rating: 9 spatulas

Taste: 9 spatulas
Presentation: 8 spatulas
Simplicity: 10 spatulas